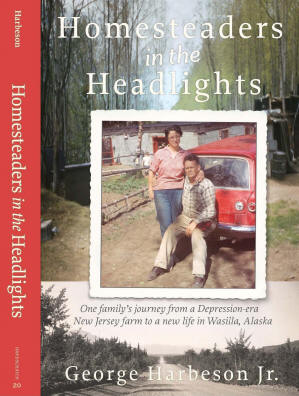 Homesteaders in the Headlights:
One family's journey from a Depression-era New Jersey farm
to a new life in Wasilla, Alaska

By George Harbeson Jr.,
with an Introduction by Katie Hurley.

ISBN: 978-0-9789979-8-4. LCN: 2010930087.
312 pages, 6x9, index of names, many photographs, $21.50

The Harbeson family was hard to miss in Wasilla, Alaska, in the mid-1950s and the '60s.
George and Katherine Harbeson were deeply involved in the Valley community, from basketball
to the Mat-Su Bookmobile, the Wasilla Library, and the Wasilla-Knik-Willow historical museums.
George, a dedicated teacher, was also an influential figure in education and local and state politics.

George Harbeson Jr. writes of his parents' early lives and the family's years in Knik and Wasilla
with a focus on the universal challenges and rewards of homesteading. Within the framework of
school and community activities are tales of friendships and folly, recalcitrant vehicles,
basketball dreams, rabbit-hunting cats and faithful canines, wildlife and home life.

"When I moved to Wasilla in 1963, George was an active citizen and popular teacher,
involved in community affairs and politics. One of my daughter's most vivid high school memories
is of listening to Mr. Harbeson read aloud John Steinbeck's The Red Pony, and my son-in-law still recalls
Mr. Harbeson's explanation of how the mill rate works. ..."
-- From the Introduction by Katie Hurley,
Chief Clerk to the Alaska Constitutional Convention.

[home] [any tonnage] [bridging] [circuses] [cuando] [familyvol1] [familyvol2] [finfur] [gilbert] [homesteaders] [journey] [kachemak] [mcml] [miner] [umnak] [unga]