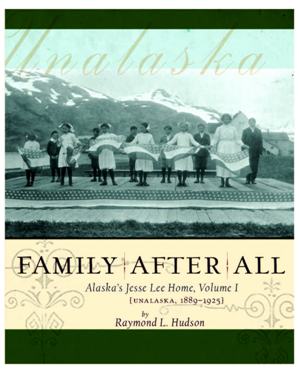 Family After All: Alaska's Jesse Lee Home
Volume I, Unalaska, 1889-1925
By Raymond L. Hudson

ISBN: 978-0-9789979-0-8. LCN: 2007929081.
400 pages, 7-3/4 x 9-1/2, dozens of photos, bibliography, index. $33.


"The lake has frozen over again," wrote Clara Cook on March 14, 1914, "and the wind is blowing awfull hard." But from her window she could see the boys had made themselves sails and were flying across the ice on skates. "The children all love the wind," she wrote, "and we have lots of snow now."
Children arrived at the Methodist Jesse Lee Home under traumatic circumstances. Often one or both of their parents had died or the family was destitute from illness or misfortune. To greater or lesser extents, the children must have been bewildered. They were frightened and alone. Then, with the resiliency of youth, they adapted; they built themselves sails. They flew across the icy lake. ....
– From Family After All, Volume I.

[home] [any tonnage] [bridging] [circuses] [cuando] [familyvol1] [familyvol2] [finfur] [gilbert] [homesteaders] [journey] [kachemak] [mcml] [miner] [umnak] [unga]